Primer Pro/Primer Pro Infinity.
Nature is the best constructor..

PRIMER Pro / Primer Pro Infinity.
The signal and speaker cables are build with shotgun priciple.
They include groundbox and groundcables.
For you it´s just plug, play and enjoy.
Primer Pro line present the music with body, details and a flow you only use to find with top of range cables.

1 June 2021 we introduce Primer Pro Infinity. A improved Primer Pro line with Infinity tech.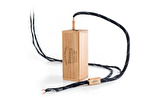 Speakercable with shotgun, EEDS, Cupper and Silver connectors. You can also get this cable with banana plugs. Includes groundbox and groundcables. Together with the Power and Signal cables you will get a true Entreq loom with the charateristic easy flowing and natural sound.The sound that made Entreq cables to be many music lovers favorit.


Digital Cables Primer Pro