Gaia and Olympus X Groundboxes for Cars.
For several years, Entreq has been collaborating with leading car audio professionals in Sweden and Korea to enhance the sound quality and impact of car audio systems.
Together, we have developed a line of ground boxes, Eartha cables, DC Power cables, signal cables, and speaker cables that are specifically designed to meet the unique demands of car audio HiFi.

At Entreq, we acknowledge that we haven't given this work the attention it deserves until now.
Initially, it was more of a learning experience for us about the use of DC in normal high-end systems. However, these years of cooperation with car audio enthusiasts have resulted in a range of products that can have a significant impact on your driving experience.

We have found that high-frequency pollution in the car's DC Power system can cause many other problems, leading to a loss of performance in your car.
Modern cars rely on microcomputers and sensors to control everything, from the engine and brakes to simple functions like opening the car boot. These microcomputers perform better when the chassis is free from high-frequency pollution, which usually floats around in the chassis as the car is isolated from the ground most of the time by its four wheels.

By connecting a ground box to your car, you can eliminate the high-frequency pollution that floats around in the chassis caused by the generator and charging units. You will instantly notice a more distinct reaction and response from your car, as the high-frequency pollution slows down the microcomputers' reaction time. So, if you want to enhance your driving experience, consider trying Entreq's line of car audio products.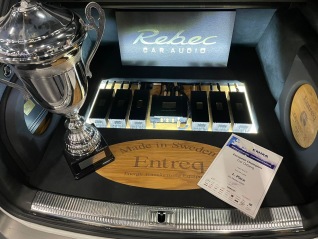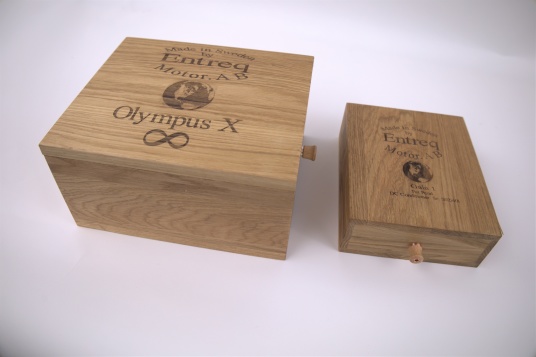 Olympus X and Gaia 1.

Two kind of grounding boxes for Car use.
Gaia 1 is the perfect entry level ground box that can significantly improve both the sound and driving performance of your car audio system.
It is easy to connect and its compact size makes it easy to place in your vehicle.
This ground box comes with an Eartha cable that has a hook and connector designed for lighter outlets. With dimensions of D200W165H65 mm and a weight of 3 Kg, it is a convenient and effective solution.

On the other hand, the Olympus X ground box has three times more working mass
It is primarily used by audio enthusiasts.
The improvement and impact on the sound system, as well as the rest of the car's driving performance, is distinct and obvious.
You will experience a significant upgrade in all aspects of your audio system.

The Olympus X ground box has dimensions of D255W165H130 mm and a weight of 10 Kg. Since it is designed for professionals and semi-professionals, it is delivered without cables. However, we can help you find the right Eartha cable to suit your needs.
Cables for High End Car Audio.
Two lines of special designed cables for Car Audio.

Primer Pro Infinity is our entry level and will give you an instant improvement compared with normal cables for Car Audio. You can read more about our Primer cables on the home audio pages

Sleipner is for you who want the same sound quality as you get in the best High End system for home audio. Sleipner is more expensive, but you get the same Entreq sound signature as we are known for in Home Ultra High End. The line is optimized for DC Power and Car audio.
Primer Pro Infinity analog signal cables.
High End cables with RCA,XLR or 3,5 connectors. These cables share a lot of the tech we use in our popular Konstantin cables made for home audio.Konstantin cables are a legend in High End for home audio and the mother for all Entreq cables.Konstantin line have get many fine awards as " most wanted product" and "product of the year"
The construction gives a dynamic and transparent sound with quiet background. You will get an easy flowing sound with details you not heard before.
Standard length 1,1 and 1,65 m. Other lengths on request.
Primer Pro Digital cables. RCA,USB or requested connectors.
Primer Pro Car Speaker cables. Standard length 6 m. Optimized for the freq range of the drivers.
Low and low mid freq. Each cable handle 1 driver.
Mid and treble. Each cable handle 1 mid and 1 treble driver. This give an easy installation.

For orders, requests or price info, please send a mail to info@entreq.com