Nano Kit, Vibbeaters, AC Wraps, ES Pads, Everst and Magma feets.
Stand Still for Optimal Performance
For optimal performance, it is important that your speakers and electronics remain physically stable and free from parasitic distortions. Generally, treble vibrates from at least 5-20 kHz, and if the surface of the baffle, as well as the other panels on your speaker, resonate at around 400 to 900Hz, it can lead to distortion.
Handling magnetic fields is even more crucial.
Our Magma Tungsten feet work great when placed under your items, but they can work even better when placed on top of electronics.Our new powerful universal box, Nano, provides an instant impact without even needing a cable. Simply place a Nano box on top of your gear's power supply, and listen as the music flows with greater dynamic range.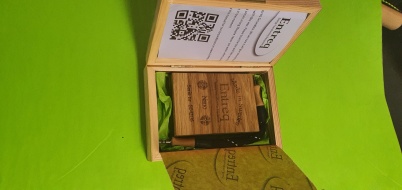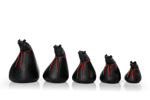 Jumbo 6 kg. For speakers above 40 kg Maxi 4 kg. For speakers 30-40 kg
Midi 3 kg. For speakers 20-30 kg
Mini 2 kg. For speakers 10-20 kg
Ultra 1 kg. For electronics.

With its special sand mixture they offer higher stability to the chassis of the equipment. And also absorbing vibrations. In addition the 'Vibb eater' also neutralises a part of the magnetic field from the electronic equipment.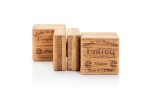 Energy transforming feet.
Magma 45 mm high. The base for the Magmas is our unique three-layer wood which absorbs most of the mechanical energies.Inside Magma Slim Tungsten and Magma Tungsten we use a new developed energy transforming unit made of Silver, Stainless steel, Tungsten, Cupper, Magnesium, Zink, Steel and ceramic. This unit transforms the mechanical energies but also and most important the electromagnetic energies.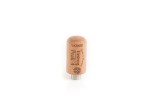 Peak 4 use a mix of five different Infinity treated metals.
We normally use wooden caps on our binding posts. Wood is totally neutral and adds no new capacity. In that sense it is perfect. The opposite is to use plastic's and most metals. We have used this fact to add carefully choosen metals and you simply replace the woodcaps on your existing ground box with either the K2, Everest or Peak 4.
K2 use two different metals and in Everest we have mixed four. Peak 4 use a mix of five different Infinity treated metals including Tungsten.
By add this metalmix trough the bindingpost you change the performance in the whole ground box, not only on the used outlet. That mean that you can fine tune the box so it´s optimal for you.

Click here for more info!.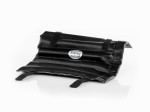 Infinity AC Wrap and Mini Wrap.
Give you a great upgrade of your cables for a very reasonable amount.
The Infinity AC Wrap and Mini Wrap are designed to address the issue of magnetic fields that are created in cables carrying signals or energy.
These fields are typically strongest at the points where cables are plugged in.
By placing a Wrap around a cable or connector, it acts as an attractor that helps to split up or move out the magnetic fields.
This enables the signal or energy to pass through with less interference from the fields.
Using AC Wraps can offer a sense of calm stability and flow to the sound, even when using cheaper power cords and cables.
For more information, please speak to your dealer or distributor. The Wraps are sold in pairs and provide a great upgrade for your cables at a very reasonable price.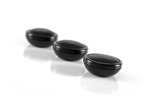 The ES Pad is designed to improve the performance of audio equipment by reducing the negative effects of high frequency vibrations and energy.
By isolating the equipment from the surface it sits on and draining away the vibrations through the mineral mixture in the Pad, the ES Pad create a clearer detailed sound.
The ES Pad is barely 35mm high and incorporates a threaded multi faceted hard acrylic base, with a mineral filled soft Pad.