Our Eartha cables are developed simulant together with our boxes for give best performance.
As well as there are many manufacturers who try copy our ground boxes there are manufacturers trying copy our Eartha cables. And that´s natural.Who could have better knowledge then we have?

So with that said, always choose an original EA cable for your grounding system.
All our EA Cables are made do the job without change the sound character or tonal balance.

Spontaneously, you feel that the design of a cable not used for handle signals or Power should not have any effect on the tonal balance. But it has, you better believe us.

The choice of materials and the design of the earth cable produces completely different results.
But a cable for ground and a cable for signal have nothing common. In fact it´s the opposite. If you use the conductors in a good ground cable as our Eartha Olympus for a speaker cable, your ears will fell of you. Or at least you whish they should, because it´sounds terrible.
Actually, it is only the design of the connectors and the dielectric that join a good earth cable with a good signal/speaker cable. Otherwise, they have hardly anything else in common.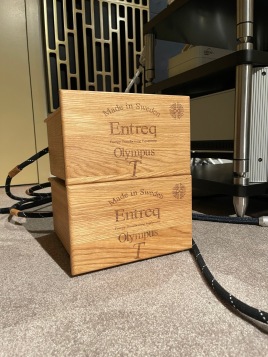 Eartha Apollo. 10 years in the frontline.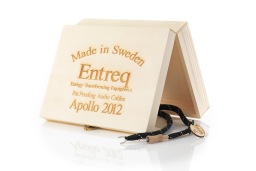 Eartha Apollo is still, 10 years after the release one of the best cables for grounding on market. Eartha Apollo never go wrong. Never let any user down and dissapointed. It´s always do the job best way. We had to spend 7 years for develop a cable that can beat Eartha Apollo.
Our top cables Apollo & Olympus are made of Silver, Cotton and Wood.
The silver conductors are twisted by our own developed system and then threated with high presure. This insure you will get best possible performance together with Entreq groundboxes. Simply, since they are developed by the same constructor for best performance. 1* 15 AWG conductor made by 4 different AWG´s twisted pure silver threads and threated with our high pressure proces. You can either choose 3,5 adapters, for easy change of connetor, or fixed connectors.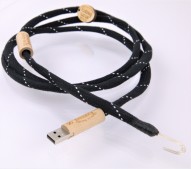 Eartha Argo and Eartha Triton. New construction for Eartha cables.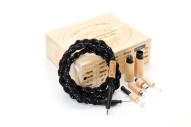 Eartha Argo New braid construction.
3 Conductors and with a Cupper Hook
A hybrid cable with good details and neutral.

Eartha Triton Neutral high end cable very open and detailed.
Braid 4 conductors construction. Silver Hook and you can choose betwen 3,5 adaptor or fixed connector
A Eartha cable that fill up the gap betwen Apollo and Olympus.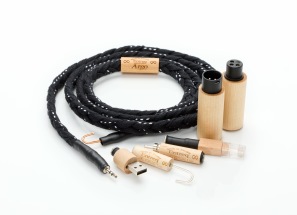 Eartha Olympus. The best Eartha cable we ever made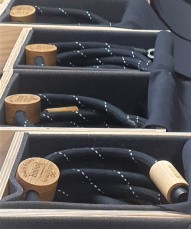 Our top cable Eartha Olympus are developed and designed side by side with our Olympus Infinity groundboxes.
All details, will show up in right shape and the tonal influence are subtle.
An Olympus box with an Olympus cable just lower the noise floor and leave the tonal impression untouched.
You will be surprised that your system can deliver so much more music, details and 3D without change the tonal balance.

With 2* 15 AWG conductors made by 4 different AWG´s twisted pure silver threads and threated with our high pressure proces, Eartha Olympus will give you best possible performance together with our Olympus Infinity groundbox.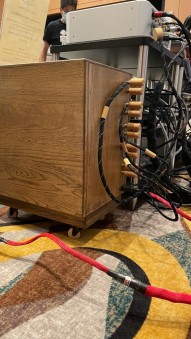 Eartha Silver. Detalied and stringent.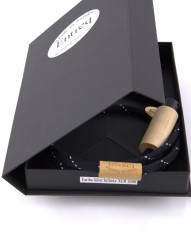 Eartha Siver is nearly as popular as Eartha Apollo. A pure Silver cable treated with Infinity tech. Cotton sleeve and wood connectors.
Eartha Silver are more focused on bring the details in the midrange treble more highlighted. Also give tighter low freq.
We would not say Eartha Silver is neutral. It´s not. We would say it´s detailed and focused on get life and brightness in the music.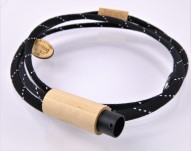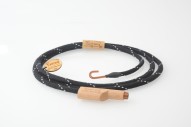 Eartha Discover. A very popular hybrid cable with good performance for the entry level boxes.